So…..21 years ago I was getting set to marry my sweetheart. In fact April 5, 2018 is our 21st Anniversary. Shortly afterwards, she advised my she was heading to Glasgow, Scotland for a Rotary International Conference. When she came home she was raving about this place called Glengoyne that she had visited. Something about tasting drams of Scotch at 10am in the morning…and I was told it was a Rotary Conference she was at! Hah!!! To this day, Jeanne still talks about her visit to Glengoyne and in fact expresses a preference for only Glengoyne Scotch. So, here I am in Edinburgh at school right now ( Heriot Watt University – Brewing & Distilling). Today is my 54th Birthday and as a treat to myself, I took the train from Edinburgh to Milngavie and a bus to the front door of Glengoyne Distillery. I was met by the beautiful and charming JoAnne who would be my tour guide. When she found out I was studying at Heriot Watt, she opened up to me and shared all sorts of excellent technical information with me. Quite the opposite from the treatment I had last October at Blair Athol Distillery…but that is another story for another day.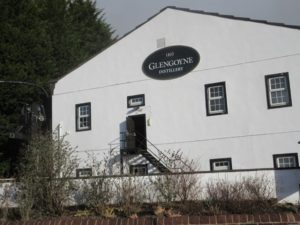 I had a chance to blend my own Scotch using cask strength samples of various ages from various barrel types. This was called the Malt Master Tour and I highly advise it. The tour of the Distillery was top shelf all the way. Now I know why my dear wife was so impressed 21 years ago.
If your travels take you to Scotland – you just have to visit Glengoyne Distilling. Get yourself to Glasgow. From there, either take a train or a bus to the town of Milngavie (locals call it Miln-Guy). From there take bus B10 to the front door of the Distillery. Ask if JoAnne can give you the tour and as I say – give serious thought to spending some $$$$ and doing the Master Malt Tour. You will come away with a whole new appreciation for Scotch. You will also start to understand why our Canadian Whisky distilled to 95% ABV is total piss! I dare say, after a visit to Glengoyne, your Whisky sipping will take on a whole new dimension.
My goal now…..dare I say it…..is to contact the owners of this fine location and see if I can arrange for a 3-4 month work opportunity. That would be like a dream come true……